nventive Gets Five-Stars on its App Development Work
When it comes to mobile operating systems, iOS and Android are the most famous and widely used worldwide. Google's Android even triumphs Apple's iOS. While some may argue that one is more superior, it's a known fact that both have fantastic app stores that can have any app that you need.
nventive is a Canadian innovation firm that aims to help clients digitally transform through tangible solutions. Founded in 2008, the company has been empowering major corporations and mid-sized companies in the US and Canada.
Back in 2018, a client of ours left us their gracious and honest review on Clutch, and it's a mobile app development project for a real time city bus schedule in Quebec City. To get you up to speed, Clutch is the leading business-to-business review platform that covers the IT, marketing, and financial services industries. The platform is known for its data-driven content and vast directories of client reviews.
For this review, a Clutch analyst personally got in touch with our client to ask for their detailed feedback about the project.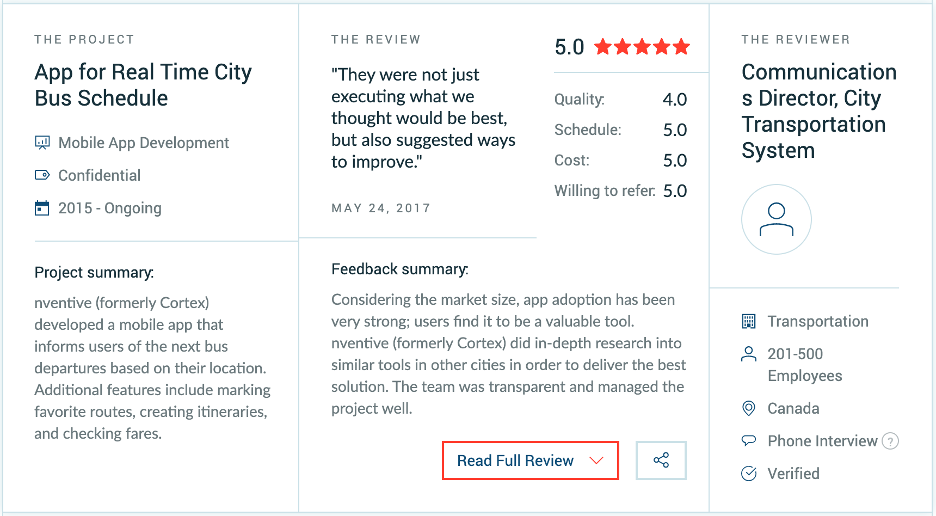 The application allowed our clients' users to be informed of the next bus departures based on their location, they were also able to mark their favorite routes, create itineraries, and check fares. When asked about the metrics and outcome of the project, our client responded: "They were not just executing what we thought would be best, but also suggested ways to improve."
The five-star rating given by our client speaks for itself. We delivered a fully functioning app that can run on both Android and iOS. We are also proud to have this review featured on our Clutch profile as it proves our ability to deliver impeccable results.
Top-Notch Performance on The Manifest
In addition to our Clutch review, our company also ranked highly on The Manifest's list of the top mobile app development companies in Canada. The Manifest is a business news and how-to website that curates and analyzes practical content for businesses.
We are thrilled that our hard work is appreciated and praised by both our clients and industry leaders. We want to thank Clutch, The Manifest, and, of course, our clients for the opportunities given to our company. Rest assured that we will continue delivering innovative, strategic, and creative solutions for your business needs. In every project we do, we always strive to put our best foot forward.
Do you have a project in mind? Get in touch with us! Tell us all about your needs and requirements. We'd love to hear from you.